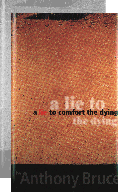 There are those who kill for money and those who kill for love, but the most dangerous of all are those who kill for an ideal. This is a story, of vengeance born in a land where the code of "an eye for an eye" is as old as the desert, that moves from the killing fields of Lebanon to the heart of the great city of London and the quiet streets of Vancouver in British Columbia.

Nicko Dragovic, the emotionless assassin, a cold and deadly man whose humanity died in the brutal ethnic cleansing of the Bosnian war, now renamed Nick Cartwright and trained by the enigmatic ex-legionnaire Martin Dreyfus. Trained to be a razor-sharp instrument of vengeance for the Iranian Ayatollahs, Cartwright is tasked to kill Ismail Talawi, the famous author of Lunch with the Prophet.

Ismail Talawi, the brilliant, Egyptian-born, Oxford-educated literary giant. A Moslem apostate whose cunning, charm and blind arrogance draws the protagonists into a vortex from which there can be only one outcome.

Anne Flett, the Vancouver trauma-room surgeon, trained by the best medical schools to save life, snared into a deadly dance of death. Her adulterous husband, Michael Monroe, a supremely successful businessman unable to see or prevent his wife's descent into danger and terrible loss.

In a world gone mad with smoke-filled dreams there are those who hold the wall. Meg Davidson, seconded from the super-secret anti-IRA unit 147; her partner, the injured SAS officer, Sandy Flett, together with their boss Jimmy Douglas, an illusionless, efficient policeman, painstakingly unpicking the threads that lead to the centre of a plot spanning three continents and the diplomats of two great countries.

This is the story of a man destroyed by cruelty, finding kindness in the eyes of an enemy. A story of honour and deceit, of friendship and failure, of love and loss, of great evil and great courage and the moral dilemmas that plague us all.



Click here to read a full excerpt.




CIP: C00-911020-8
ISBN: 0-9681787-2-3
Pages: 312, 5.5" x 8.5"
Price: $24.95, hardcover

Order A Lie to Comfort the Dying from Glendambo Publishing.