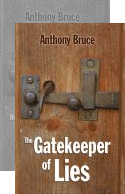 From the beauty of western Canada's Gulf Islands to the killing fields of Rwanda and Bosnia. A man running from demons he cannot understand and the child that gives him back his soul... Two governments playing for great stakes and sacrificing as pawns the agents they betray....



Click here to read a full excerpt.




... Some dark project was running.... To sacrifice three experienced DGSE operatives and have their assassin executed spoke of very high-level involvement. So he'd run and made a new life, a life he'd slowly grown into. A life he'd no right to accept. A life that could now and still might bring disaster to those he loved. Since yesterday when a ghost from the past had found him, there were no longer any options.

Now, sitting on a beach log watching the cold outflow winds from the interior of British Columbia tearing the tops off incoming breakers, flinging veils of mist back towards the endless wastes from where the waves had begun their long journey, Tomas accepted that he could no longer run and, looking at the gray, early spring clouds diffusing the sun now sparkling dull silver on a cold sea and illuminating one of the wildest and loveliest coasts on earth, his lips twisted bitterly. Tomas knew that he finally had to face the past if he was to save the two people he valued more than anything else....


This is a story of a man betrayed who refuses to betray those he loves, a story of friendship born in great danger and the obligations of honor over duty and patriotism, a story of loss and belonging, of second chances and the price that must be paid to hold to the only true values in life.... The story of a man who builds a new and better life only to have the world he escaped from seek him out for a secret he does not know he holds. On a lonely windswept coast, Tomas Molnar realizes that he can no longer run and if he wishes to preserve the ones he loves, he must use all his cunning and skills to end this long pursuit.


"Superb... Another gripping international thriller right out of today's headlines from the author of To Taunt a Wounded Tiger, The East Wind, and A Lie to Comfort the Dying."

CIP: C2004-900248-1
ISBN: 0 9681787 3 1
Pages: 218, trade paperback
Price: $18.95 (US$15.00)

Order The Gatekeeper of Lies from Glendambo Publishing.